The Set Up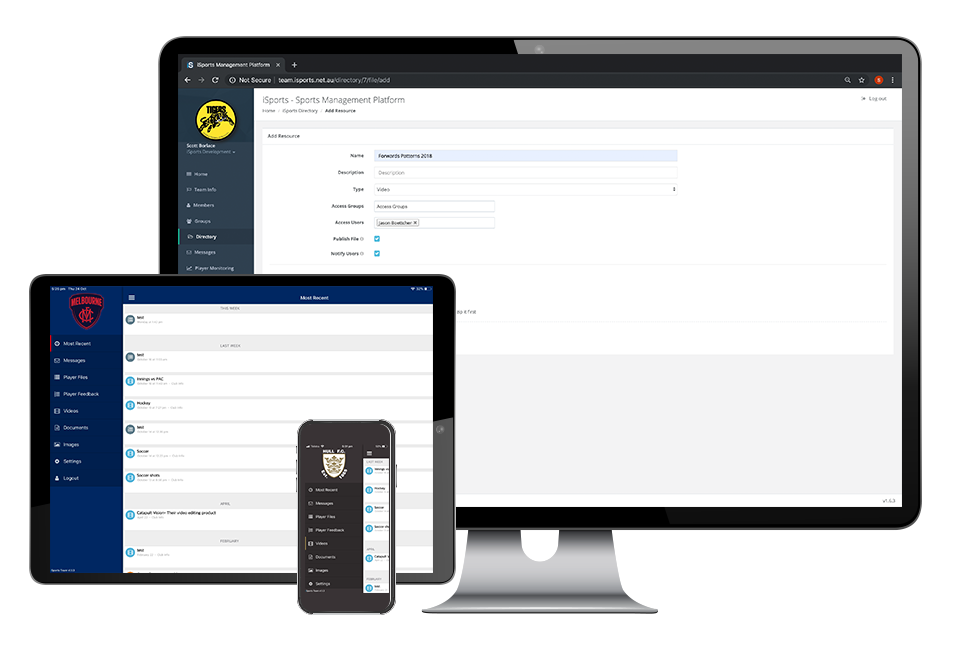 Team admin

Your club has access to its own web-based team admin portal to manage all communications and management of players and staff.

This easy to use platform is where you add your members, create groups, add documents, videos, surveys and files and send group messages.

The App

We provide the TEAM app for iphone/ipad and Android, that players and staff can download on their devices, to access your team account.

Each player/staff member will have their own account to login to securely access your teams info such as a game plan etc. Once logged in, the app is branded in your unique club logo and colours.
The Tools
Content distribution
one of the core features of TEAM is the ability to upload and share files with your team, including video, PDF's and images.
Once uploaded into the TEAM platform, all selected players or groups will be instantly notified that new content is available and be able to access it directly on their device. All content is cloud based, so content can be accessed anywhere.
Content Features
We support common video formats including mov and mp4. Video can be streamed or downloaded for offline use (such as on a plane).
We support video files with multi-angle vision. On the iphone/ipad app, users can quickly change views to watch individual angles or just watch all angles simultaneously.
We support Sportscode packages with coding data. On the iphone/ipad app, users can navigate the coding timeline, selecting instances and viewing the code matrix.
PDF documents and images are supported within the app. Players can be sent schedules, fixtures, itineraries and game plans etc.
Messaging

Players can be contacted directly or via groups through the system. Messages will appear directly on the players devices as push notifications and is accessible to be read fully in the app.

Messaging Features

Message Players directly or message an entire group.
View the list of players that have read the message.
Athlete Management/ Monitoring

The TEAM app can remotely monitor performance areas such as player wellness, sleep, injury etc. The results are collated and graphed at the iSports Admin portal so that important performance and well-being decisions can be made about athletes.

Surveys

You can add a survey, such as a quiz with multiple choice questions, to gauge an understanding of your players learning. Send a survey after a meeting to find out what has been retained!

Analytics

Via the admin portal, you can easily see who is viewing your uploaded content, both overall and per individual file.
In depth Features
Video Coding Timeline

Coded games can be viewed via the ipad. Players can also code their own instances. This is great for 'flipping the classroom', sending a clip and getting players to cut highlight edits themselves.

360/VR Video

TEAM supports 360 and VR video. Film and scenario with a 360 camera and put players in the action.

3D Drawing and Presenter

On the ipad app, you can add drawings with 3D broadcast like graphics, to further enhance to purpose of your clips.
Interested in iSports Team?
We offer bespoke packages designed for your clubs requirements at affordable prices. Get in contact with us and we'll provide a quote for iSports Team.
Got an iSports Team Account?